Running in winter
December 22, 2022 | icebreaker
As warm summer days have well and truly disappeared it can be hard to find the motivation to get outside and keep active. The dark streets, the chilled air, the comfort of home and those Netflix series calling out to you… But there are perks to running in winter too. The streets and trails are quieter, the chilled fresh air, the feeling of accomplishment and satisfaction afterwards. With the right gear and layering system, running in the winter can be an enjoyable and refreshing way to exercise and improve fitness.
How to layer merino for winter running
It's important to layer properly so as you get moving you do not overheat, become dehydrated and kick yourself for wearing so many layers. Merino wool clothing is excellent for running layers due to its natural thermo-regulating and odor resistant properties. Find out the science of merino wool here.
Base layers
Essential to core body warmth is a base layer. Our ZoneKnit™ range is designed for running and other high intensity activities. Our ZoneKnit™ technology uses different fabric weights and structures in targeted paneling to enable different parts of your body to retain heat while other parts to release it. This targeted thermoregulation is perfect for high intensity activities like running where different body parts heat up or cool off faster. Learn more about ZoneKnit™ technology here. Choose between a lightweight and midweight depending on how cold the temperature is. Simply put, the higher the weight the warmer the base layer will be. The 260 ZoneKnit™ half zip and leggings are perfect for colder climates while the 200 ZoneKnit™ long sleeve thermal top and leggings are great for milder temperatures.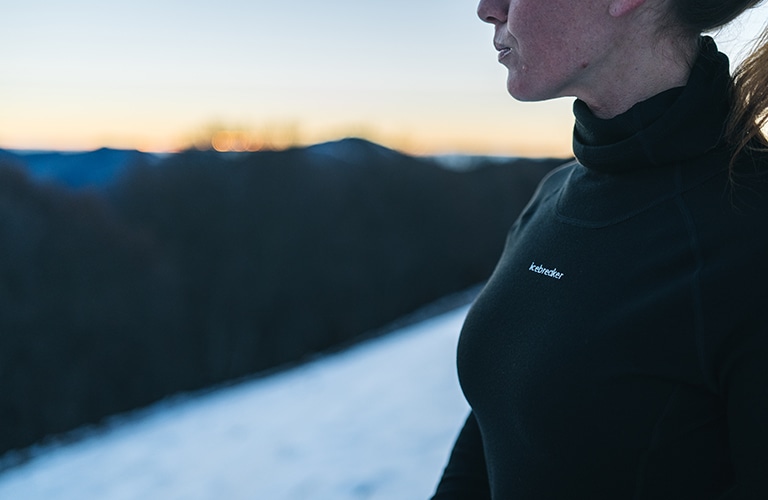 Mid layers and outer layers
Depending on how cold the temperatures are when you head out for your run, mid layers and outer layers can be interchangeable or used together along with your base layer. The ZoneKnit™ Merino midlayers features the same ZoneKnit™ targeted paneling for thermoregulating while also featuring zippered and side stash pockets for keys, cards, and gels. The drop hem adds a little extra back coverage while the full zip allows you to quickly release the built-up heat mid run. The ZoneKnit™ merino jackets and vests have a quilted ZoneKnit™ paneling using natural merino wool insulation instead of down or synthetic fill. The merino fill insulation also means the jackets and vests have a high warmth-to-weight ratio are machine-washable.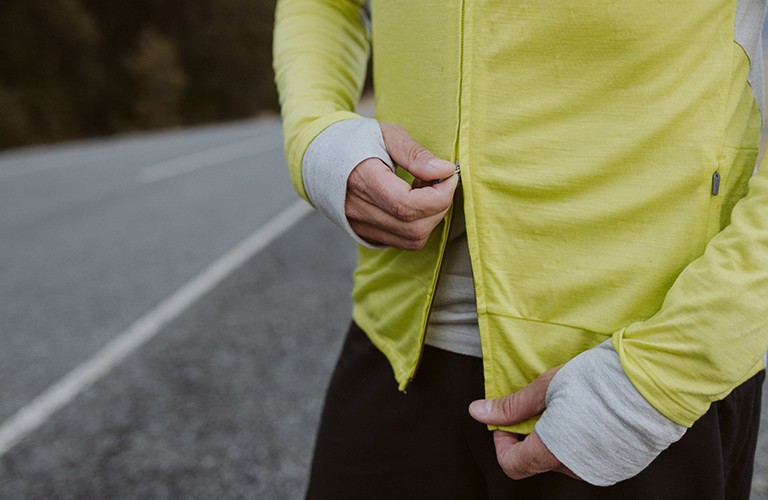 Bottoms
For your bottom half, merino tights, thermal leggings, and joggers take the chill off while stretching and moving with you on your run. Our women's Fastray tights are made from 250 weight merino meaning your legs nice and toasty and protected from the wind. Your legs will thank-you.
Alternatively, our men's and women's ZoneKnit™ joggers provide a more relaxed fit and can be worn over base layer leggings for even more merino warmth.
Accessories
Just as important as the larger layers are the accessories when it becomes cold. Body heat will escape through exposed skin and the cool air will feel colder on these uncovered areas.
A good place to start is a pair of lightweight or midweight gloves. As with the base layers the higher the number the warmer they will be. For a lightweight option our 200 RealFleece™ Merino Sierra gloves feature a brushed merino wool fabric that is lightweight and breathable. Our 260 midweight Quantum gloves are thicker ad feature silicone palm for grip. Both options are touchscreen compatible for phones and touchscreen GPS running watches.
The lightweight 200 Merino Chase Beanie and Headband are other good accessories for your running wardrobe. The Chase range features a less bulky and more fitted design than standard everyday beanies and headbands and can even fit under a cycling helmet or hardhat. The reflective logo assist visibility while running in the dark.
Breathing in cold winter air can be painful. The lightweight 200 100% merino Flexi Chute can be just the accessory to make your run more comfortable. The versatile design means it can be worn as a chute, tuque, headband, facemask, or neck gaiter.
Socks
Quick-drying and moisture wicking merino wool socks keep your feet warm and dry while also resisting odors and being extremely durable. The soft merino fibers are not only comfortable to wear but also prevent irritation and blisters that commonly occur with cotton fiber socks.
Choosing between running socks really comes down to personal preference and how the compliment your running shoes. Our range of running socks come in a variety of sock heights and cushioning to meet your sock preferences and style. Mini sock heights provide extra coverage against the cold than micro ankle socks while light sock cushioning adds a little extra thickness and warmth.
Other things to think about for your winter run:
● Warm up – If possible warm up inside to get your joints and muscles and loose and warm before facing the cold.
● Waterproof shoes with grippy soles – Not only will these keep your socks and feet dry and warm they will reduce the risk of slipping and falling.
● Headlamp – To aid visibility on early morning and evening runs.
● Tech - To track distance, pace and alert someone if you run into trouble.
● Post run warm down plan – Try to not stay exposed outside for too long once stopping your run.
Run warm this winter with head-to-toe merino running clothing. For more information read our; how to layer merino guide.



More for you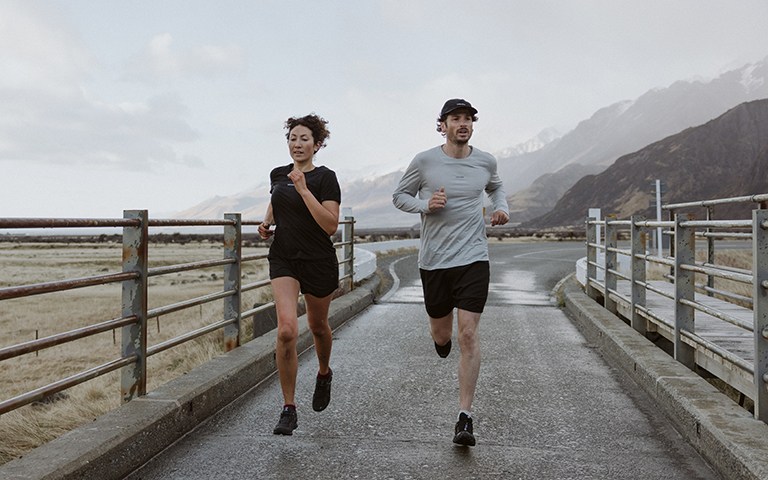 The Tech Behind ZoneKnit™ | icebreaker
October 6 2022 | icebreaker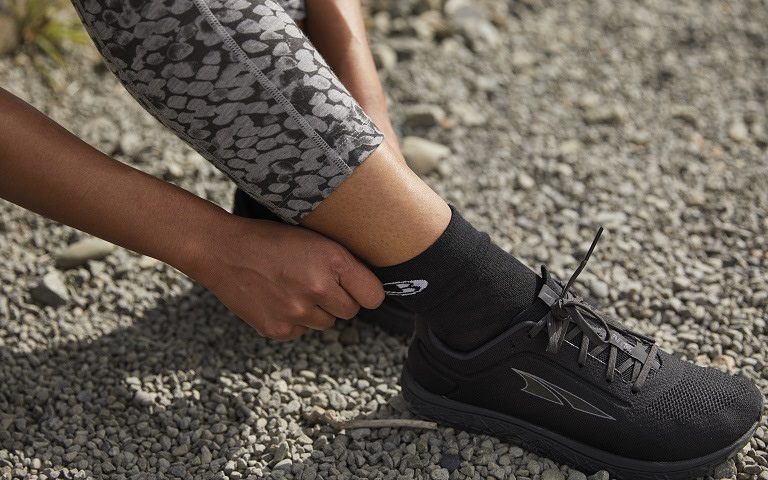 What to look for in running socks | icebreaker
3rd March, 2022 | icebreaker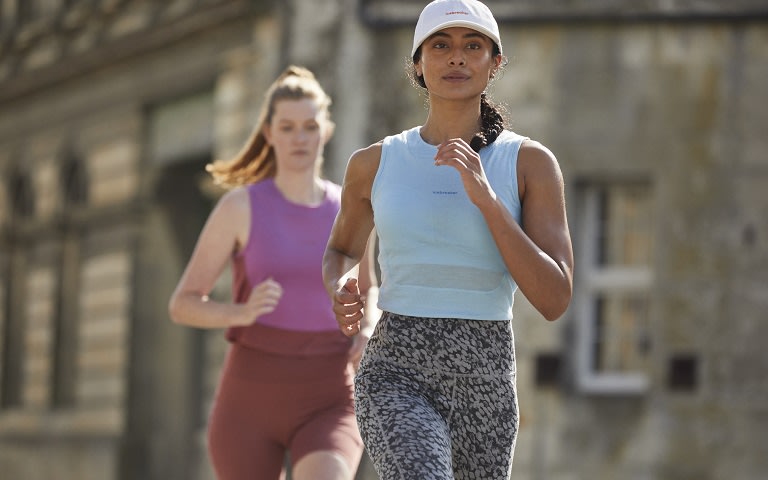 How to improve your fitness and the environment | icebreaker
15 February 2022 | icebreaker