How well do you know your wardrobe?
Story by Marie Knowles, Interviews by Jodi Gordon
Join Erin Holland and Samantha Harris as they look at the impact their fashion choices have on the environment, and explore three simple swaps they can make for a more sustainable wardrobe.
Today, we're buying more clothes than ever. What's wrong with that, you ask? Well, firstly the numbers are staggering. Between 2000 and 2014, the world's clothing production doubled.1 In Australia, each person on average buys 27kg of new clothes each year, double the global average of 13kg.2
And we're wasting more, too. In Australia, for instance, 6,000kg of fashion textiles are disposed of every 10 minutes.3 Around the world, the fashion industry is the second largest polluter, after the oil and gas industry, and generates 8% of the world's greenhouse gas emissions.1
What's the issue?
Put simply, fast fashion equals more resources used, and more waste created. It's a high price to pay to stay on top of trends.
So, what's the alternative?
Actress Jodi Gordon believes it's about making small, sustainable switches: "It's all the little things we do that together can make such a difference."
Jodi's hosting a new series on simple solutions for a longer-lasting, more sustainable wardrobe in collaboration with non-profit organisation Clean Cut Fashion.
So, where to start with these simple swaps?
"It can become overwhelming and confusing at times," says Jodi. "I guess one tip to remember is just to read the tag and try to stay away from synthetic materials like virgin polyester."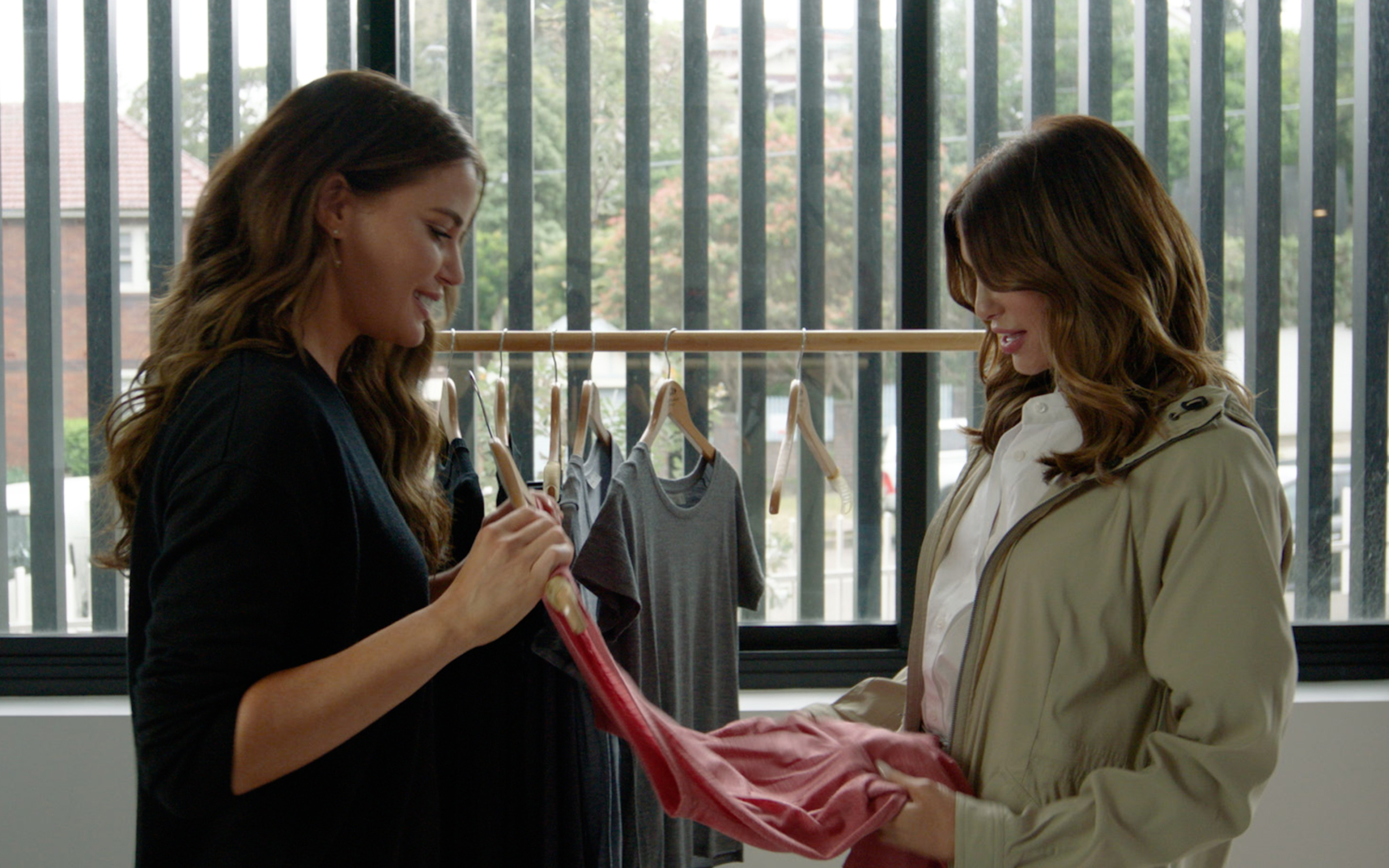 Erin's wardrobe
Meet Erin Holland. Jodi caught up with the performer, presenter and former Miss World Australia to share some ideas.
"I think it's important that I try and make my wardrobe that little bit more sustainable, but also support the brands that are actually doing the right thing," says Erin.
Swap 1: The trench.
Erin: "So does that mean I don't have to wash it as much? Because I hate washing jackets."
Jodi: "Absolutely."
A classic travel jacket, the Briar has a durable nylon shell with soft and breathable merino wool lining. The easy relaxed hood adds to the laidback vibe, and the adjustable drawcord at the waist helps dial in the fit.
Switch 2: The training top.
Jodi: "Now, we all love a colourful wardrobe, right? But the way our clothes are coloured has a huge impact on the environment. So as a natural alternative, icebreaker use a plant-based dye to dye their clothes, like this Nature Dye tank."
Erin: "What a beautiful colour for summer!"
Jodi: "I know, and it saves nasty toxins going into our waterways."
A tank top that balances performance with style, the Drayden is made from Cool-Lite™ fabric, with odour-resistant merino wool and natural plant-based TENCEL™. It's naturally dyed with plant pigments using 65% less water than traditional dyeing.
Sam's wardrobe
Another inspiring woman who's keen to move to natural in her wardrobe is Samantha Harris. The model has become more aware of microplastic pollution from synthetic fibres in clothing and wants alternatives.
Swap 3: The T-shirt.
"A plain tee – it's just classic. And easy," says Sam.
Erin: "I couldn't agree more. So now that I know a little more about your style, can I offer you some more sustainable pieces? A classically cut tee made from naturally derived materials."
Sam: "It feels so comfortable. I guess it's because it's all natural, right?
Erin: "It's made out of merino wool that helps regulate your body temperature.
icebreaker are shifting to plastic-free, naturally derived materials that do not shed microplastics."
Sam: "I guess it's a lot easier to make changes once you know what to do."
Cool-Lite™ Merino Via Short Sleeve Scoop Neck T-Shirt
An ultra-comfortable tee for laidback style, the Via is made from Cool-Lite™ fabric, a naturally breathable blend of odour-resistant merino wool and natural plant-based TENCEL™.
Find out more about the move to natural.
View our full transparency report here to see our ethical, sustainable and environmentally conscious practises.
Sources
1.UN News report https://news.un.org/en/story/2019/03/1035161#:~:text=When%20we%20think%20of%20industries,polluting%20industry%20in%20the%20world
2.Australian Bureau of Statistics,Information Paper: Towards the Australian Environmental-Economic Accounts

3.ABC War on Waste https://about.abc.net.au/war-on-waste-its-time-to-step-off-the-fashion-trend-mill/
More for you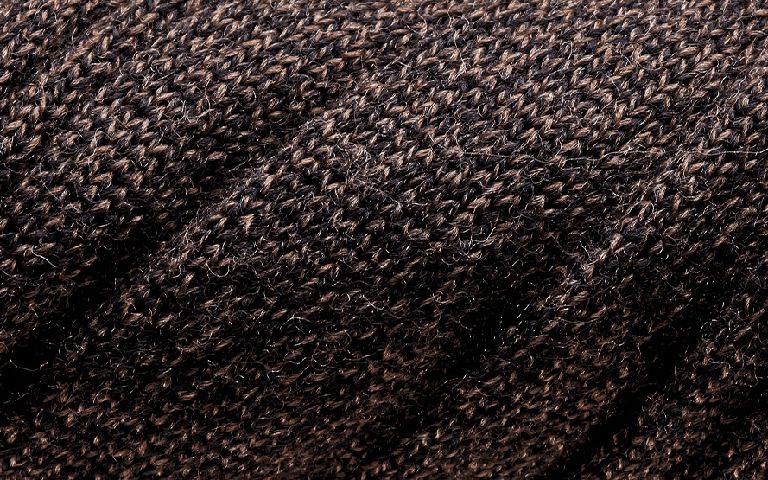 Will merino wool shrink after washing?
28 September 2020 | Marie Knowles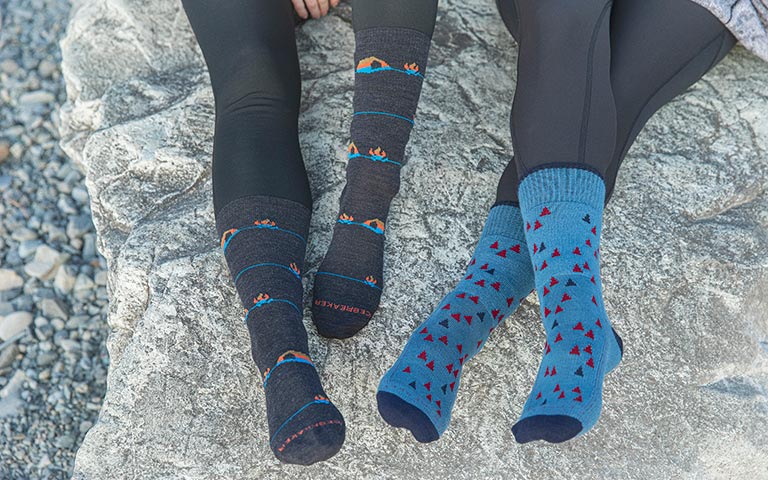 Are merino socks good for hiking?
26 August 2020 | Marie Knowles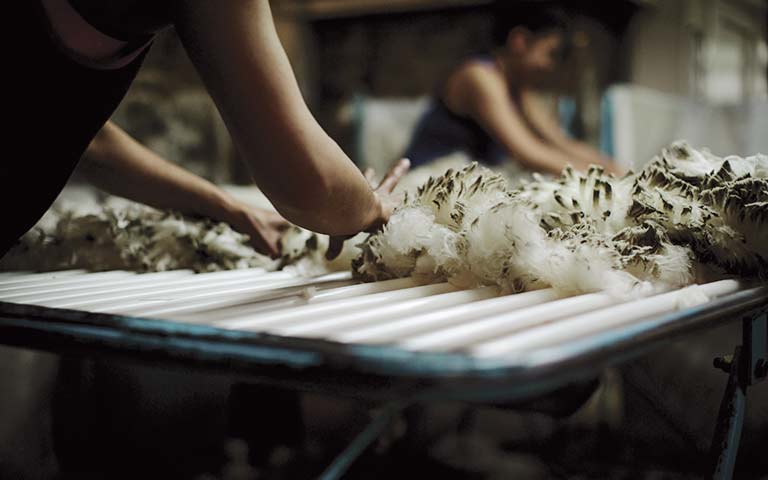 Why is merino wool good to wear?
19 August 2020 | Jamie Patterson