The Ultimate Guide to Backpacking
November 17, 2022 | icebreaker
There are few experiences more exciting, empowering, or awe-inspiring than backpacking through the great outdoors! Carrying everything you need to survive and thrive in the backcountry is not only an admirable feat (no matter what skill level), but also perhaps the purest way to enjoy nature. But it can be a big step, even a scary one, even for seasoned campers. Whether you're setting off on your first trek or your hundredth, this go-to guide from icebreaker has all our best tips and tricks to get you ready for your next adventure.
Planning your journey: the basics
The first step is planning: your route, your gear, and your mind. If you're new to hiking, stay in your comfort zone with an easier route and get familiar with your equipment. It's best to start slow and work your way up to longer treks and more challenging routes. If this isn't your first time, it's still wise to incrementally increase the challenge.
Get ready for your trip in these 5 steps:
Pick a destination
Pack your essential equipment and clothing
Plan food and water
Prepare physically and mentally
Embark on your adventure!
Essential's checklist
Every journey has its own quirks and conditions, but here at icebreaker we are sure this list of essentials will serve you well no matter where you're headed.

• Tent
• Water and water filtration/treatment
• Food
• Sleeping bag and mat
• Headlamp (or lanterns)
• Camping stove and fuel
• Cookware & utensils
• Navigation tools
• Fire starter
• Dry bags
• Trowel
• First aid kit
Do's and don'ts
As you plan, prep, and trek, here's some key do's and don'ts to remember on the trail:
| Do's | Don'ts |
| --- | --- |
| Pack lightly | Go off trail |
| Keep food sealed | Leave trash & food |
| Leave no trace | Overstuff your backpack |
| Know the environment & weather | Bring too much non-essential gear (photography, comforts, etc) |
| Wear sturdy, comfortable shoes | |
| Plan water and food carefully | |
| Go at your own pace | |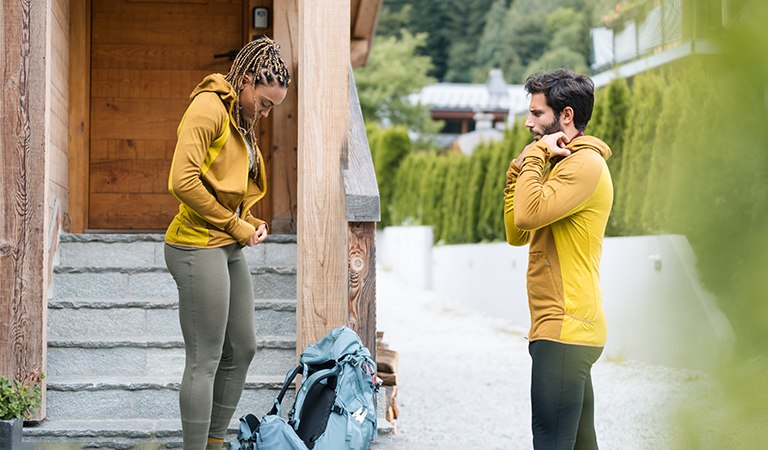 What to wear
Backpacking is all about efficiency, so when it comes to clothing, think lightweight and versatile. Depending on your area, you'll need to think about temperature and elements – for colder places, you'll want a thermal but breathable base layer, while for wet places, a lightweight rain jacket will be key.
Layers
As you trek, your body temperature and the environment will change. Generally, the rule is three layers: base layer, mid layer, and outer layer. Go for materials like merino wool; these materials like this can wick moisture, dry quickly, and breathe better than cotton.
This is the layer closest to your body. It's the layer that will get soaked in sweat first, will be exposed to air the least, and most directly impact your skin and body temperature, so aim for moisture-wicking and quick dry material. If you're going somewhere cold, opt for a warmer material like merino wool. Something like the icebreaker Oasis range would be perfect. Tighter-fitting undies will likely be the most comfortable, but ultimately, go with what you know you can move in. Socks should follow the same material rules but adjust to your comfort level and how your extremities do in various conditions. If you're heading into the woods, consider hiking socks to protect your feet and ankles from bugs.
Your mid layer can be an insulated vest, hoodie, or jacket that preserves your body's heat and prevents cold air from passing to your skin. Material like icebreaker's RealFleece™ provides a naturally warm and soft defence against cold air, while innovative ZoneKnit™ helps regulate your core temperature as you hike, ski, and explore any climate.. You likely don't need a mid layer on your legs unless you're going somewhere cold; if you are, opt for looser pants that can comfortably fit over your base layer.
Your outer layer is the most exposed to the elements. Even if you're expecting sun and heat all day, keeping your skin covered can keep you safe from unpredictable weather and other factors. A lightweight, long-sleeve shirt can provide warmth and/or sun protection. Long pants offer the most protection against ticks and bugs, injury, and sunburn. If you're hiking in warmer climates, choose a light, breathable fabric for your outer layer. If in colder climates, this layer can be thicker material that will keep rain, snow, or wind off your body. Avoid denim since it can chafe after a while and is miserable when wet. Pack a warm jacket made of an insulating material, and a lightweight jacket such as the icebreaker hiking jackets.

Learn more about how to layer Merino Wool
Hat
Bring a brimmed hat to protect your eyes, head, and face from the elements (both sun and rain). You can wear a full sun hat that will protect the back of your neck too, or a baseball or trucker cap as you like. Make sure the brim is stiff enough to not obscure your vision but can bend enough to properly protect you. The icebreaker 6 panel hat is a good option when looking to keep the sun off your face.
Shoes
Close-toed is a must and opt for a sturdy yet flexible shoe with soles that hold traction. Look for grippy soles and foot support. Hiking shoes are typically low on or below the ankle, while hiking boots are usually higher. Some backpackers prefer to bring another pair of shoes, especially if going to a lake or river. These should be light, sturdy, and waterproof. It comes down to personal preference; you can even wear running shoes if it's an easier trail and you feel comfortable (just use actual running shoes, not style sneakers). Ultimately, make sure you feel comfortable in your shoes – hiking is not the time to be breaking in brand new, stiff hiking boots.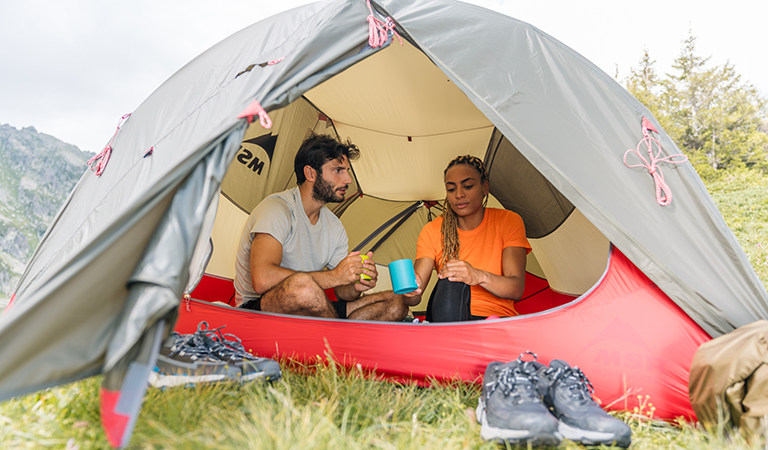 What to pack
The right gear can make or break your experience. Since you're carrying everything you need for as long as you're out, it's important that whatever you bring is lightweight, compact, and reliable. Whether you're using the latest icebreaker gear or the tried and true, make sure you're comfortable and familiar with everything you're bringing. Even play with it at home before you head out!
Backpack
The most important item! There are entire guides just for choosing your backpack, but the most important factors are size and fit. Backpacks come in different capacities depending on your trip needs: you can pack a 30-50 litre pack for 1-3 nights, a 50-80 litre pack for 3-5 nights, and a 70+ litre pack for outings more than a weeklong. Make sure your backpack fits your body, using your torso length and waist size. Your hips should hold most of the weight, while your back and shoulders should help stabilize the pack.
Tent
Consider seasonality, weight, and space when choosing your tent. Your tent will likely be your largest and heaviest item, especially if you're newer to the scene and don't have a backpacking-specific tent. First-timers, prepare to be shocked at how a 4-lb tent is still considered heavy in the hiking world! A standard 3-season tent will work for most conditions other than extreme environments. You can even bring a hammock in the warmer months, they're very comfortable, fun, and lightweight.
Sleeping bag & mat
Down insulated bags can be easier to compress and more warming. Make sure the temperature rating fits the nightly temperatures of your destination. There's lots of options for sleeping mats too, with the trade-off between weight and insulation (and price). There are three types of sleeping pads: closed-cell foam pads, insulated air pads, and self-inflating pads. Consider the terrain and temperature to estimate how thick and insulating the mat should be. With both these items, remember that you'll have to carry them as you hike. You may be able to use a lighter sleeping setup and thicker sleepwear to conserve space and weight.
Cookware
At the very least, you'll need a camping stove, fuel, a pot and/or pan, a cup, and utensils. Potentially more depending on your planned meals and group but try to keep your cookware as minimal as you can and opt to clean it frequently instead of bringing more. There are specific stoves, but if you're new to this, you likely can use a single-burner camping stove as long as it is compact and weighs less than a pound. Make sure your fuel is compatible and the canister is full, and a full lighter. Also, something to safely grab the hot cookware, like a multi-tool, pliers, or thick rag. There are also pots, pans, plates, bowls, and utensils, but again, you can likely use your camping gear as long as they are lightweight and small. Bring some biodegradable soap, a tiny towel, and a small sponge to wash (a good distance away from camp and water sources).
Light
While campfires are iconic, they may not always be possible. Many popular camping sites have implemented bans due to wildfire risks, or weather conditions may prevent your fire from thriving. Regardless, artificial light will be useful for functionality, ambience, and late-night bathroom trips. Bring a headlamp to be hands-free, or a small flashlight, and you can bring a small, lightweight camping lantern to place in your tent or at your site.
Dry bag
A waterproof dry bag protects your essentials in wet conditions throughout your trek. Many backpacks come with a dry cover themselves, so you can keep everything dry while you trek, or bring your own collection of dry bags to keep everything organized and dry while at your campsite. However, no dry bag is perfect, so try not to drop anything into the river or leave anything sitting in the rain.
Food
Plan your meals before you set off so that you know what you need to pack. The standard guideline for adults is to consume 2,000-2,500 calories per day, but considering your heightened activity level, adjust for 2,500-4,500 per day. Start with how many meals you'll need (3 per day - breakfast, lunch, dinner), then supplement with high-calorie and high-nutrition snacks like protein bars.
Water
The camping rule of thumb is one gallon of water per person per day, but of course that is far too much to carry while hiking miles to your next campsite. The general guide is to carry at least two litres of water and drink about a half-litre for every hour of hiking. Start off your journey with the drinking water you need for your first trek, then gather water along the way. Gather "dirty water" from creeks, lakes, etc., then use a filtration or treatment method so that it's safe to drink. You can also use your camping stove to boil the water to make it safe to drink, but that requires using some of your fuel and waiting for the water to cool after.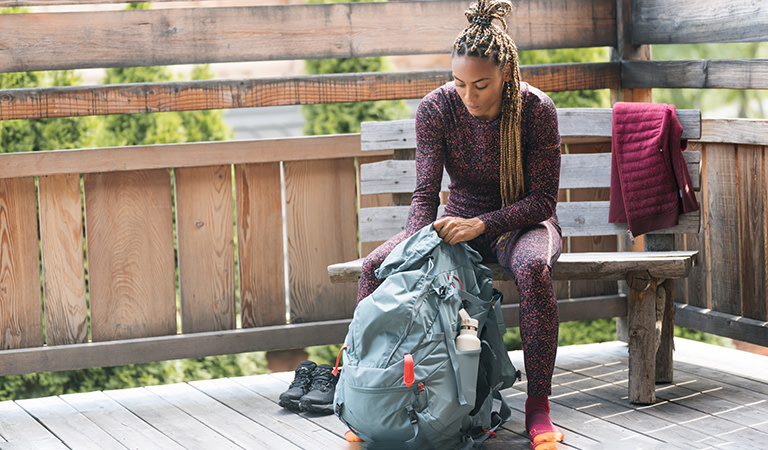 Personal Hygiene and Essential Knowledge
You're not doing the outdoors right if you're not a little dirty. Still, you'll want to feel relatively clean and refreshed when in the backcountry for days, and it's important to keep the nature around you clean too.
You shouldn't clean your hair and body everyday as you would at home, but for long treks, you'll want to fully clean every so often. We have a few things to pack to keep yourself clean, from a little daily wash to full nature showers:
• Biodegradable soap to wash your hands, face, hair, dishes, etc.
• A lightweight towel to dry off sweaty, dirt-covered areas and prevent chafing
• Organic, biodegradable toothpaste and small toothbrush
• Moist wipes to clean off dirt, sweat, sunscreen, and insect repellent at the end of the day
To keep the world around you clean, handle your waste properly. Clean up all trash and food and keep it in sealed bags
The most important rule is Leave No Trace. Basically, this means that you should leave your campsite (and nature in general) just as you found it, if not better. There should be no indication that humans were camping there: no waste left on the ground, no excessive trampled vegetation, no human food, and no changed wildlife. Whether you do it a handful of times, or practically live on the trail, this activity inspires a new level of respect and love for the outdoors. There's more skills and tricks to learn with every adventure, but this guide from icebreaker will get you ready for your first trek.



More for you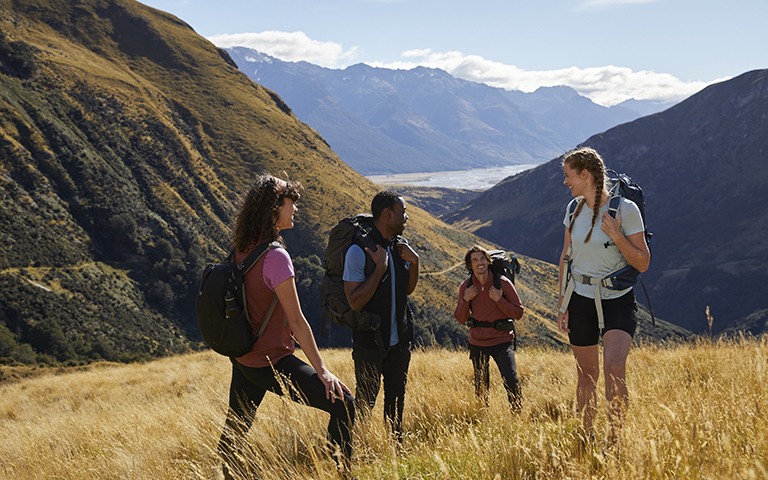 Why merino is perfect for summer hiking | icebreaker
28 July, 2022 | icebreaker
How to pack light for hikes | icebreaker
4 May 2022 | icebreaker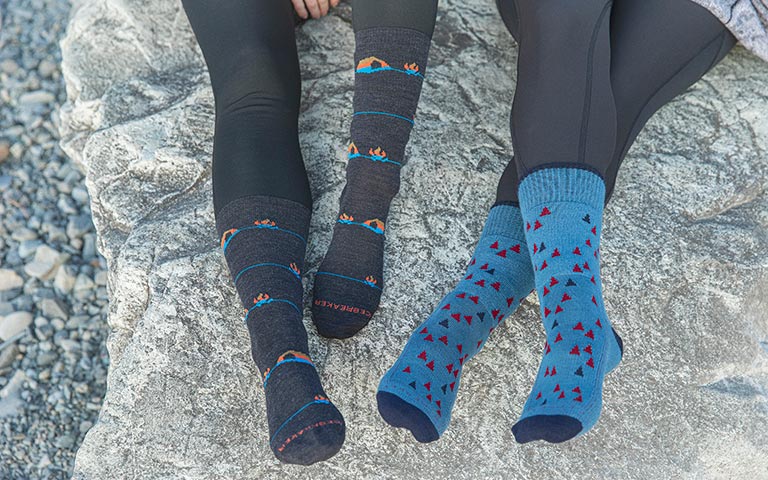 Merino socks for hiking | icebreaker
26 August 2020 | Marie Knowles