How to use base layers for warmth
December 15, 2022 | icebreaker
Base layers are an extremely important part of keeping warm in colder weather and outdoor activities. In this article, we will discuss how base layers work, how to use them, and how to choose the best pieces for your adventures.
What are base layers?
Base layers are the layer of clothing closest to your skin, beneath the rest of your outfit. The purpose of base layers is to keep your skin dry and wick sweat while providing warmth. To best perform, your base layer should fit tightly against your body and be made of breathable, moisture-managing materials.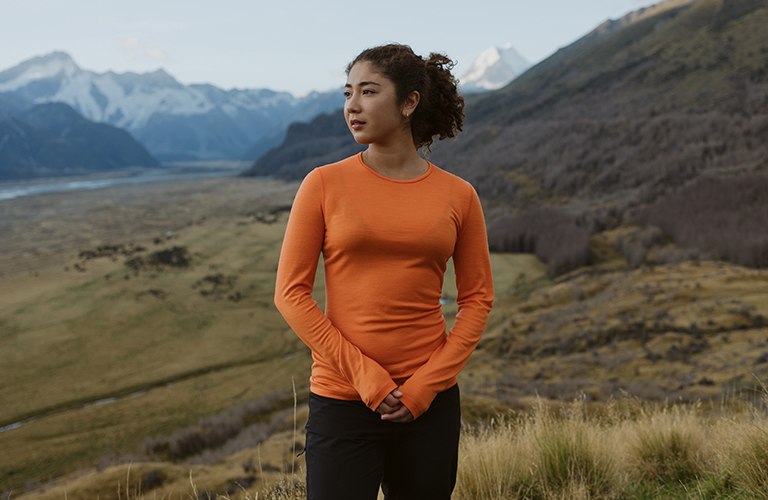 Layering basics
Your outdoor outfit should be made up of three primary layers: base, mid, and outer. Each one helps your body regulate temperature and stay comfortable as you explore. At icebreaker, we're dedicated to designing each layer for optimal natural performance so that you can brave the elements like the formidable, cozy merino sheep that inspire icebreaker.
Base layer
Your base layer should fit like a second skin so that it can effectively pull moisture away from your skin. When your sweat stays on your skin, it eventually gets cold and makes it difficult for your body to remain warm – plus, it gets quite uncomfortable and can lead to chafing.
With a quality base layer, sweat is removed from your skin and evaporates elsewhere. Depending on your activity, environment, and comfort level, your base layer can be anything from a sleeveless top and lightweight tights to a thermal long-sleeve base layer and thick leggings. Breathable materials like icebreaker's merino wool regulate your temperature through easy hikes and high-intensity climbs alike.
Mid layers
The mid layer's job is to insulate: keep your body warm as you move. It should fit comfortably between your base and outer layers, loosely enough to allow heated air between it and your body but not loose enough for that air to escape.
More than one mid layer may be needed for your environment, but all articles should be insulating and breathable to avoid overheating. Technology like ZoneKnit(™) is designed to actively regulate body temperature, keeping you comfortable while allowing excess heat to leave your body.
Outer layer
The outer layer protects you against the elements, rain or shine. Your outermost jacket and pants fit loosely on your body to leave room for your layers beneath, but many are designed with adjustable edges and hoods to keep out cold air or water. The outer layer should be lightweight but sturdy and waterproof if you're venturing in snow or rain.
For more details on layering your full outdoor outfit, check out icebreaker's guide to layering.
Cold vs. warm weather base layers
Whether you're hiking through deep snow in an alpine forest or crossing a golden desert, a smart, efficient base layer is important. It can serve different functions and be made up of different items and materials depending on your environment and activity. In cold weather, a base layer can also provide some insulation, while in warm weather, it can provide breathability.
Cold weather base layers
Your base layer should be made of materials like merino wool and lightweight blends, which are thermal as well as moisture-handling. This added benefit keeps your skin warm and dry under your other layers. In the cold, a full, thick, midweight and heavyweight base layers could include thermal leggings and a long-sleeved shirt.
Warm weather base layers
Don't be fooled by sunshine and heat – even warm-weather adventures need technical clothing. In these environments, your base layer should primarily be moisture-handling and breathable to prevent overheating. If you opt for just one layer, you should still consider a lightweight, long sleeve shirt and long bottoms to protect your skin from the sun.
Alternatively, you can regulate your core with a sleeveless top and leggings under a sun shirt. Materials like icebreaker's Merino Wool are designed to be cooling and breathe along with your skin.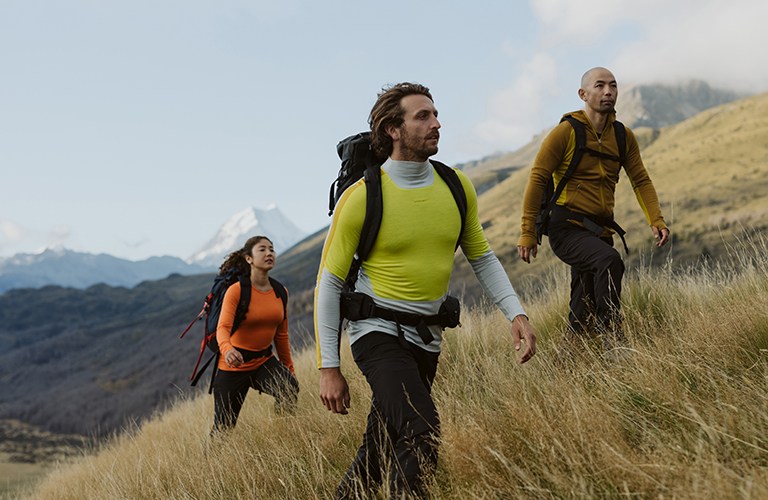 How to choose your base layer
You've found your favorite activity, and you've chosen your destination. Your gear is packed, and it's the night before you set off for an alpine trek or a rainforest hike, and you're laying out your clothes. Choose your base layer to put on first, using all your new knowledge!
There are three key factors in choosing your base layer: 1. Environment and activity 2. Fit 3. Material
Your environment and activity is the first consideration in putting together your outfit. As we discussed above, different weather requires different needs – keeping your skin from getting too cold or getting too hot, keeping out snow and water, or protecting against the sun.
The activity also determines how you wear your clothing since the way your body will be moving will affect how your clothing fits. Ultimately, you know your own body best, so choose items that will stay comfortable throughout your entire adventure.
In some cases, different base layers are designed for different activities. For example, or Oasis collection is designed for everyday activities, and will contour the body and will easily flex with you, allowing maximum movement. For more intense activities such as hiking in colder climates, there is our ZoneKnit™ range. This is specifically engineered with body mapped technology to regulate your body temperature and let your skin breathe during high-intensity activity.
Base layer fit and weight
How your clothing items fit and weigh against your body is the next factor in your decision. Your shirt and tights or leggings should fit closely against your body without scrunching or pulling as you move. You can also choose lightweight, midweight, or heavyweight fabric.
The heavier the fabric, the warmer you'll be. While warmth isn't the main goal of a base layer, it's still something to consider if you're heading into intense environments. Icebreaker has a handy numerical weight system so you can easily measure our fabric's weight, from ultralight (lowest numbers) to heavyweight (highest numbers).
Base layer material
Finally, make sure the material of your clothing is the right one to do the job. Outdoor clothing comes in a range of fabrics, from synthetics like fleece and microfiber, to natural fibers like wool and silk.
Again, multiple fiber options are equipped for moisture management, so there is some room for personal preference. Just remember – no cotton! Cotton absorbs and holds moisture rather than wicking it, making it awfully uncomfortable once you start sweating.
Synthetics
Clothing made of synthetic fibers can be formidable layers but aren't always as effective insulators as natural fibers. If you're adventuring in a mild climate and are a mountain beginner, synthetic materials are a good start.
Once you become more advanced and venture into the great outdoors more often, however, join us in our love for natural fibers like merino wool and TENCEL!
Merino Wool
Here at icebreaker, we're proudly pro-merino wool, and for a good reason. Merino wool is naturally insulating, odor-resistant, moisture-handling, and oh-so-soft and comfy!
These benefits are why we innovate with merino wool as our base, adapting our clothing to make it useful as multiple layers and in multiple climates. Merino wool is versatile and, if well cared for, lasts for years.
Silk
Not just for fancy dresses and royalty, silk is a formidable fabric in the elements. Silk is incredibly lightweight and comfortable against your skin while being naturally moisture-wicking and insulating. It's so thin that you can easily fit it under as many mid layers as you want, making it good for everyday layering.
Now that you've got all the know-how, it's time to choose your base layer and get out there!
More for you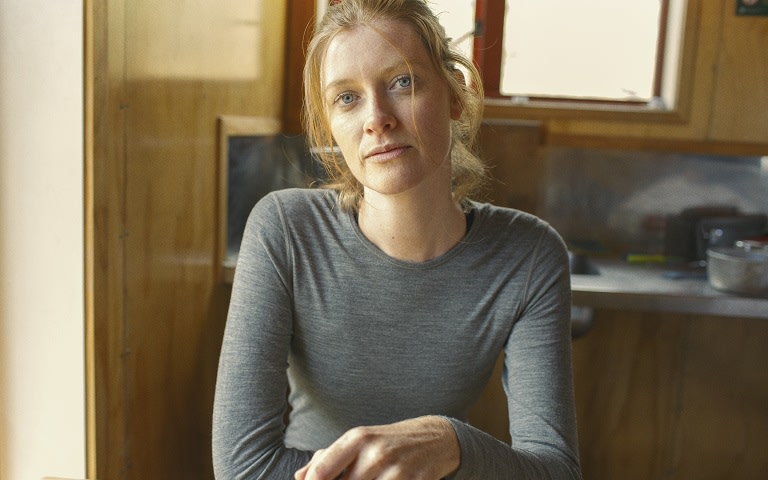 Choosing your merino wool base layer | icebreaker
22 December 2021 | icebreaker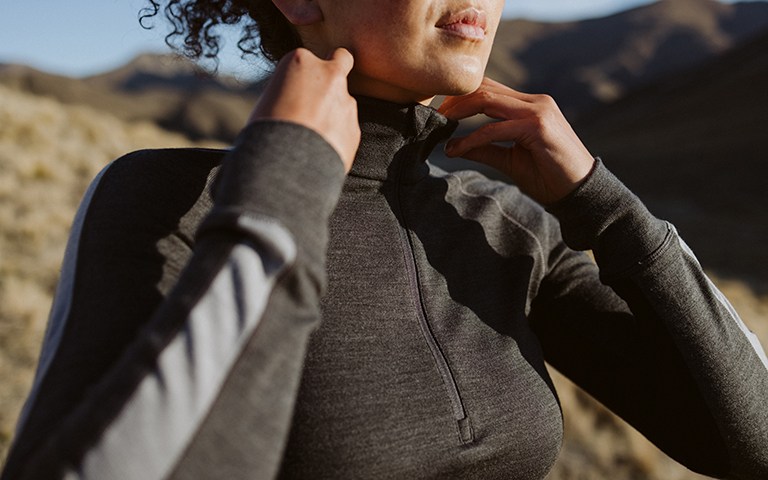 Which fabrics insulate best? | icebreaker
27 October 2022 | icebreaker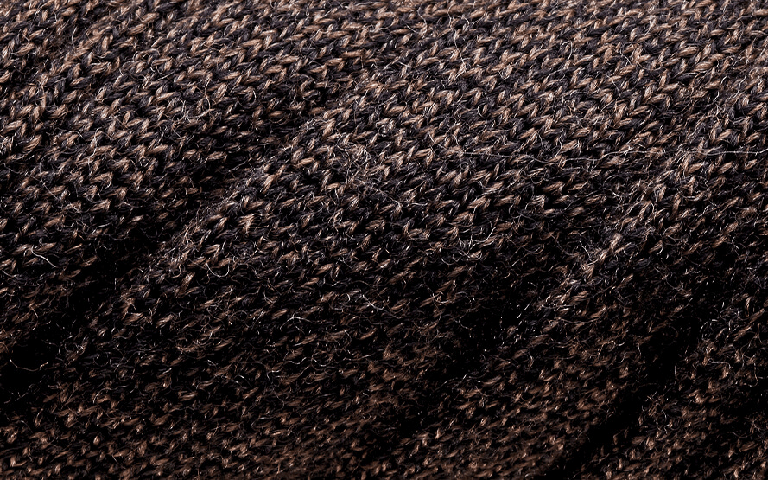 Washing Merino Wool Clothes | Does Merino Shrink? | icebreaker
28 September 2020 | Marie Knowles