The icebreaker snowboard clothing guide
April 6, 2023 | icebreaker
If you plan on hitting the slopes for snowboarding, you'll need the right gear to keep you warm, dry, and comfortable. Choosing appropriate snowboarding clothing is essential to protect you from the elements and allow you to move freely and easily.
In this guide, we'll explore everything you need to know about snowboarding clothing, with trusted recommendations from the extensive icebreaker snow sports range.
Snowboard Clothing
The best snowboard clothing will protect you from the cold, wind, and snow while allowing the full range of motion, which is essential for snowboarding. Clothing can affect your performance on the slopes through insufficient protection or limiting mobility.
Planning ahead to make sure you have the clothing you need will mean that you can focus on enjoyment and performance. Consider the following features when choosing your gear:
● Insulation: Staying warm is essential when snowboarding, so look for fabrics that trap air close to the skin to maintain a comfortable body temperature.
● Breathability: Snowboarding is a physical activity, so you'll need breathable and moisture-wicking materials, moving perspiration away from the skin to keep you comfortable.
● Waterproofing: You're going to come into contact with a lot of snow, so your outer layer needs to be water-resistant. Avoid fabrics that absorb water and become heavy.
● Durability: Snowboarding is a high-impact sport, and your clothing needs to be able to withstand the wear and tear of the mountain.

Choose snowboard clothing that works well together in layers. Layering allows you to stay warm and dry and respond quickly to variable conditions on the mountain.
Start with comfortable and breathable underwear with a close-fitting base layer on top. Insulating base layers should be flexible to accommodate a wide range of motion and breathable to keep the skiing dry. Mid layers can be added or removed depending on the conditions, while your outer layer is a barrier against wind and water.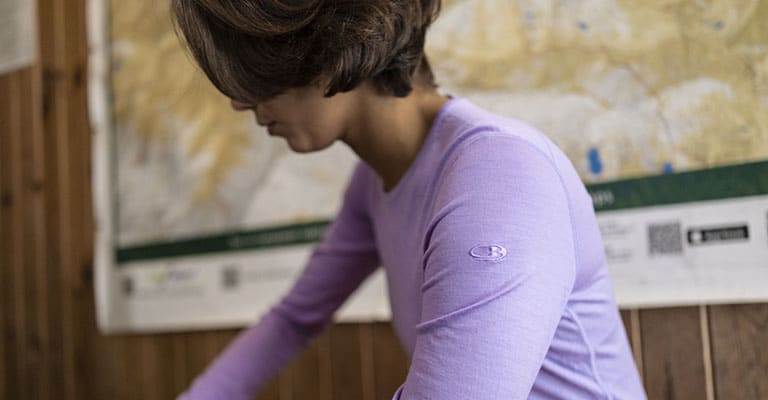 Snowboard Clothing for Women
When it comes to snowboarding clothing for women, the core principles of insulation, breathability, and durability all apply. As women's bodies are shaped differently than men's, snowboarding gear is often designed with a different fit and cut.
Start by choosing lightweight underwear, including a supportive sports bra for maximum comfort on the slopes.
One of the most important considerations for women's snowboarding clothing is the fit. Women's jackets and pants are often designed to be more form-fitting than men's, with a narrower waist and wider hips. This ensures a comfortable and secure fit and allows for a full range of motion on the mountain.
When thinking about socks, comfort and warmth are the key things to consider. Merino socks will ensure you a lightweight feel while also providing insulation and comfort. Consider also over the calf socks for further insulation and warmth when you are on the slopes.
While function is always the top priority, style is also important. With a range of colors and patterns, choose something you'll enjoy wearing that expresses your personality.
Some of our most popular snowboarding clothing options include jackets, base layers, and accessories like hats and gloves. All icebreaker clothing is designed with sustainability and performance in mind, providing breathable, moisture-wicking, odor-resistant gear to maximize enjoyment on the snow.
Men's Snowboard Clothing
Men's snowboard clothing for men is similar to women's in features and functionality, but the fit is usually different. Men's jackets and pants are often designed to have a looser fit than women's, with a wider waist and narrower hips. This increases comfort when moving on the mountain.
When it comes to insulating your feet, again consider merino socks for the balance of performance and comfort.
In fact, specific features to look for in men's snowboarding clothing are the same for both sexes. Breathability, waterproofing, insulation, and durability are all key features to keep in mind when shopping for gear. Men's snowboarding clothing may also feature specific design elements like extra pockets, adjustable hoods, or ventilation zippers.
The defining feature of icebreaker clothing is the use of merino wool. A natural and sustainable material that offers superior warmth and moisture management, merino wool is ideal for snowboarding. This high-performance fiber is also naturally odor-resistant, making it perfect for multi-day trips without access to laundry facilities.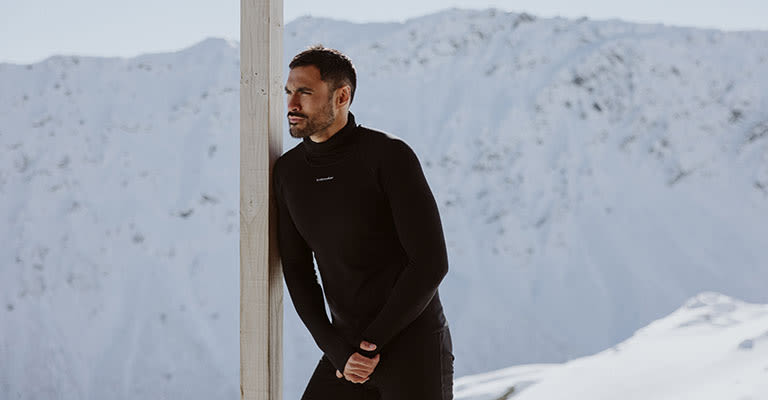 Snowboard Gear
In addition to clothing, there are several other key pieces of gear that are essential for a safe and enjoyable day of snowboarding.
●
Snowboard:
To choose the right board, consider your riding style, ability level, and the type of terrain you'll be riding on.
●
Boots:
Snowboard boots transfer movements from your feet to your board. When selecting snowboard boots, look for a comfortable fit with good support and control.
●
Bindings:
Snowboard bindings connect the board to your boots. Like boots, it's important to choose bindings that fit well and provide good support.
●
Helmet:
Wearing a helmet is essential for protecting your head in case of a fall. Look for a secure fit and adequate ventilation to prevent overheating.
●
Goggles:
Protect your eyes from wind and snow. They also offer UV filtering of sunlight, reducing glare and enhancing visibility on the mountain.
●
Gloves:
Keep your hands warm and dry with mittens or gloves that have a high level of insulation, as your hands can quickly become cold. Look for waterproof fabrics and a good fit to provide maximum dexterity.
●
Neckwear:
Seal in the warmth with flexible neckwear. Neck chutes are a great way of staying warm and wont inhibit movement like a traditional scarf might.
Versatile, long-lasting, performance-driven clothing
At icebreaker, we believe in longevity and versatility, creating natural, high-performance clothing that is built to last. If you're looking for snowboarding clothing, our range of merino wool layers is built on a firm commitment to sustainability and purpose. From base layers to outerwear and accessories, icebreaker has everything you need to stay warm and comfortable on the mountain.



More for you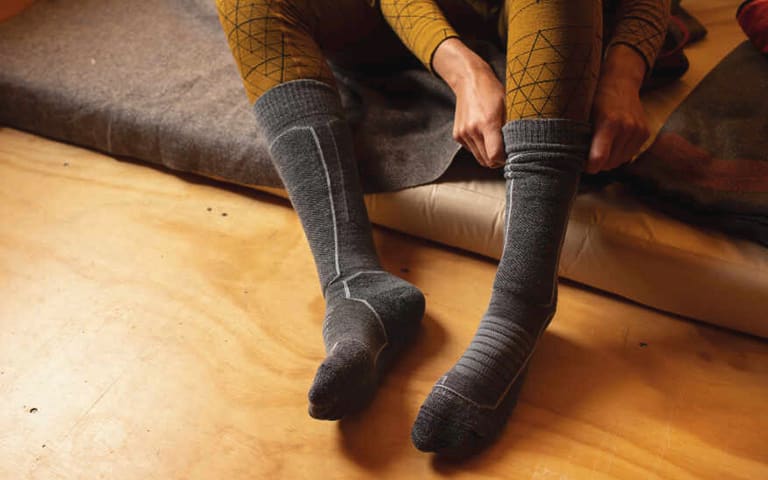 How to choose socks for skiing | icebreaker
21st February, 2023 | icebreaker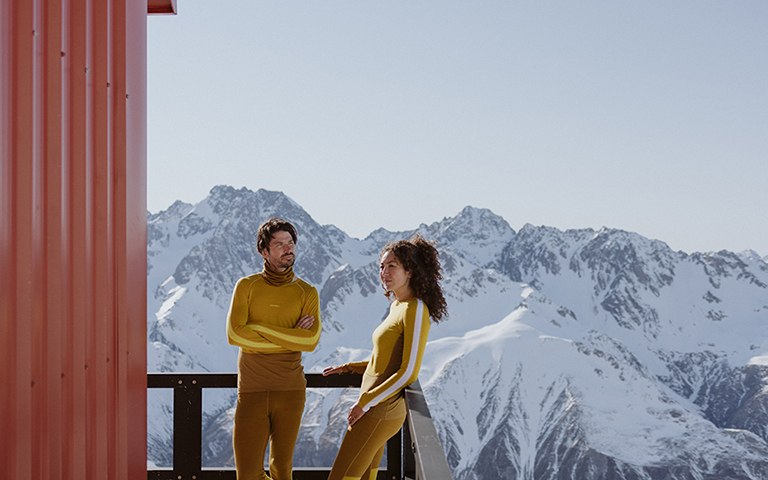 How to use base layers for warmth | icebreaker
15th December, 2022 | icebreaker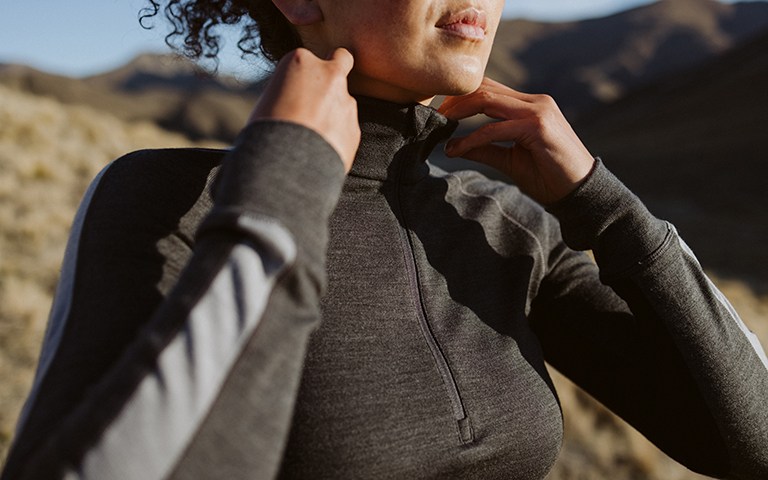 Which fabrics insulate best? | icebreaker
27 October 2022 | icebreaker