Winter hiking guide
February 16, 2023 | icebreaker
Winter hikes are a great way to enjoy the outdoors. Cold weather will not spoil your fun as long as you are prepared. Planning ahead allows you to focus on enjoyment and performance. This guide will explore everything you need for a successful winter hike. Explore clothing layers and hiking boots, helping you choose the right equipment for your next adventure.
Hiking in winter
Select your gear for hiking in winter by considering the length of the hike, the type of terrain you'll be covering, and the expected weather conditions. Plan your clothes in lightweight, flexible layers to maximize warmth and remain versatile for changing temperatures. Wear well-fitting footwear that supports your feet and provides grip on uneven ground.
Layers for hiking
An effective winter hiking outfit will keep you warm but also allow the movement of air to keep you dry when you sweat. Select clothes that combine as layers. Multiple lightweight layers are more versatile than a bulky coat. On a winter hike, you can add or remove layers depending on the conditions and your body temperature.
Layers can be broken down into:
● Base layer
● First layer
● Mid layers
● Outer shell

A lightweight, comfortable base layer should fit close to the body to avoid chafing. Choose fabrics that are breathable and wick sweat away from the skin. At icebreaker, we love merino wool for its insulating and quick-drying properties as well as being a sustainable fiber. Check out our premium base layer guide as a starting point for your winter hiking kit.
A first layer is a t-shirt or long-sleeved top that is worn on top of the base layer. Look for flexible fabrics that don't restrict your range of motion. The use of mid-layers will depend on your specific needs, but they include hoodies, sweaters, and fleece jackets. Mid layers can be easily added or removed to allow you to adapt when conditions change.
An effective outer layer provides protection against wind and rain. Lightweight outer jackets can be easily carried in a bag so that they are easily accessible if it starts to rain. For winter hiking, it's advisable to pack extra layers. It's far better to have a spare layer in your backpack than find yourself in need of additional clothing that you didn't bring.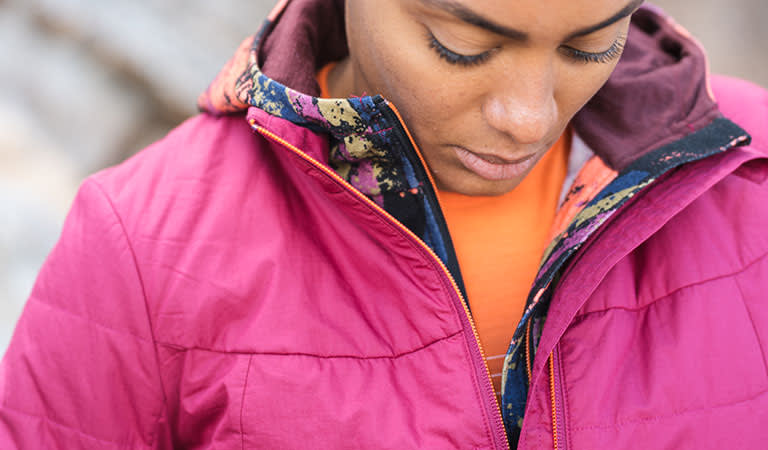 Winter hiking jackets
Winter hiking jackets will provide insulation along with protection from water and wind. Tightly woven fabrics act as a barrier to wind chill. Water-repellent coatings are effective for light rain, allowing the jacket to remain breathable. If you expect heavy rainfall, choose a fabric with a higher waterproof rating. Lightweight jackets are ideal for a hike so that you don't add unnecessary weight.
Synthetic fabrics have been engineered to obtain lightweight insulation properties. However, they are created from non-renewable resources and have a negative environmental impact. At icebreaker, we are passionate about sustainability and specialize in natural fabrics that are not only gentle on the planet but also achieve the performance capabilities of synthetics.
Merino wool is known for its softness, warmth, and moisture-wicking properties, making it an ideal choice for activewear. The fibers of Merino wool are finer than traditional wool, which makes them more comfortable to wear next to the skin. It can keep you warm in cold weather and cool in warm weather, just like merino sheep!
Merino wool is also naturally odor-resistant, which is a major benefit for clothing worn during activities such as hiking or backpacking. The fibers of the wool contain an enzyme that neutralizes odor-causing bacteria. As a natural and renewable resource, merino wool is a sustainable choice for clothing.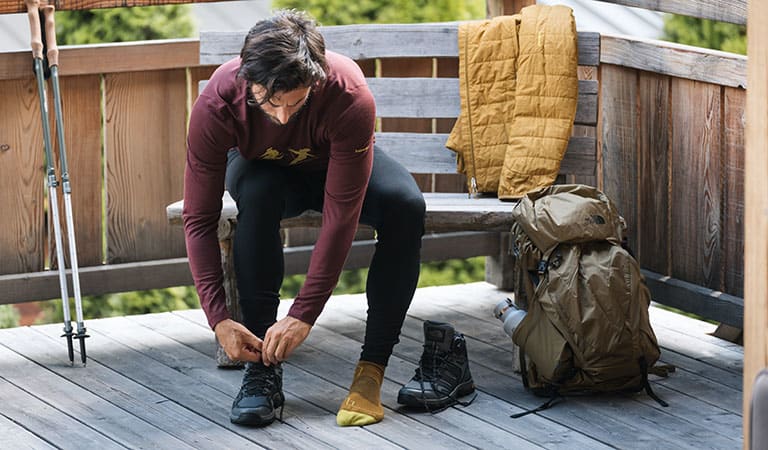 Winter hiking boots
Winter hiking boots are your most essential piece of gear so take your time to find the right pair for you. A proper fit will ensure that your feet don't slide around, minimizing discomfort and blisters, so try boots on before you buy. Use your new boots on shorter walks before heading out on a longer hike for the first time.
The purpose of the sole is to provide traction on the ground. The looser the terrain you are walking on, the more grip you need, which will be provided by a chunkier sole. Boots with a low cut at the ankle allow more flexibility and weigh less, making them effective for walking on mainly flat tracks. If you need more ankle support for scrambling or mixed terrain, a high-cut boot offers increased protection.
In wet weather, you want your feet to stay dry, so waterproof boots are a wise choice. Sweat can also make your feet uncomfortable, so look for boots with breathable fabrics for the uppers. Also to reduce moisture further you can pair your wet weather hiking boots with icebreaker merino wool socks to wick away any sweat and reduce blistering.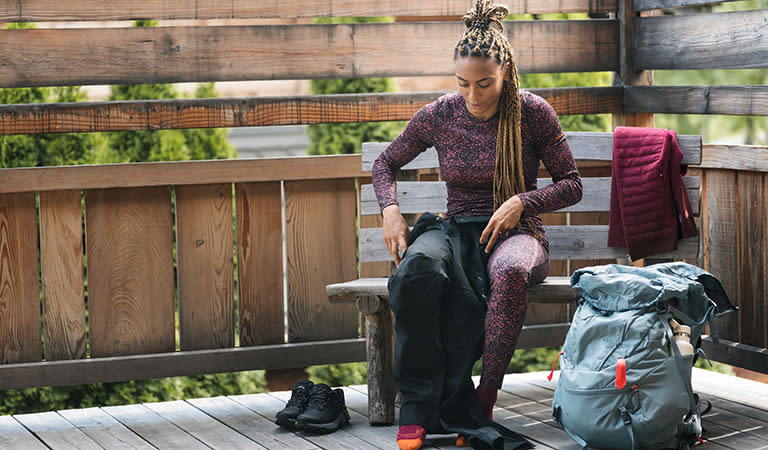 Winter hiking pants
Winter hiking pants should be lightweight, comfortable, and flexible enough to allow a wide range of motion. Durable fabrics are important for resisting wear and tear. Breathable construction allows air to circulate when you start to perspire.
Jeans or sweatpants are not suitable for winter hiking as they will absorb water, becoming heavy and uncomfortable. Look for quick-drying materials that can handle impact with thorny plants or sharp rocks on your hike.
Winter hiking
Winter hiking is a great way to enjoy outdoor adventures in the colder months. At icebreaker, we have spent the last 25 years researching, developing, and equipping outdoor enthusiasts with high-performance clothing that is kind to the planet and is built to last. Check out our full hiking range and start planning your next hike now.



More for you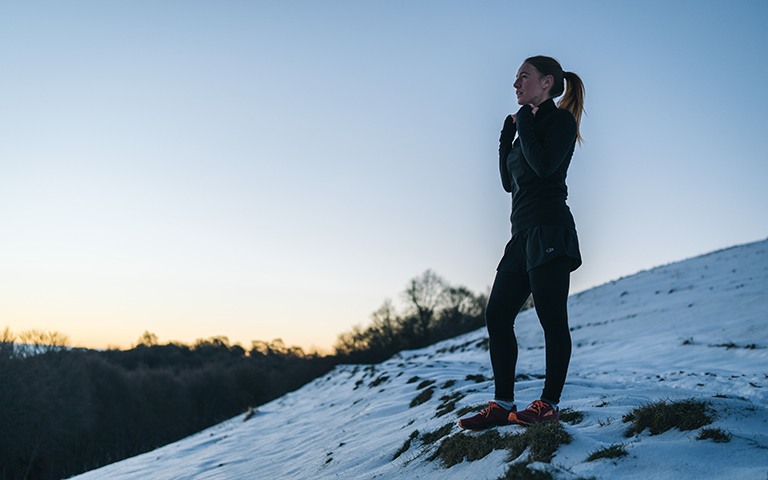 What to wear when winter running? | icebreaker
22nd December, 2022 | icebreaker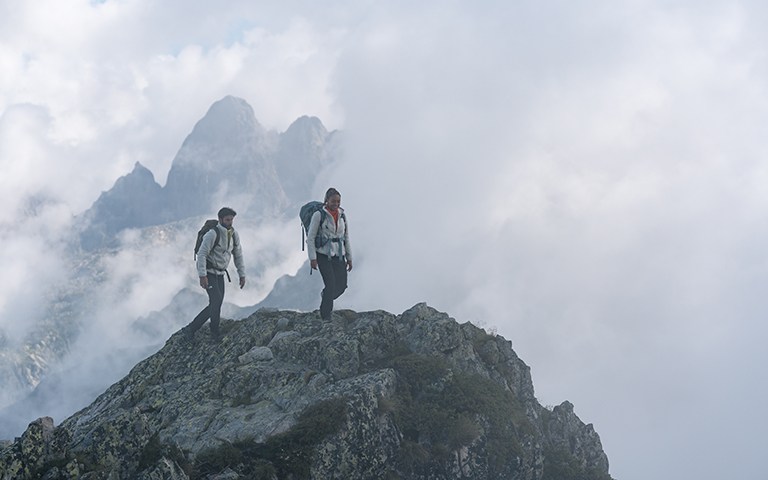 The ultimate guide to Backpacking | icebreaker
17 November 2022 | icebreaker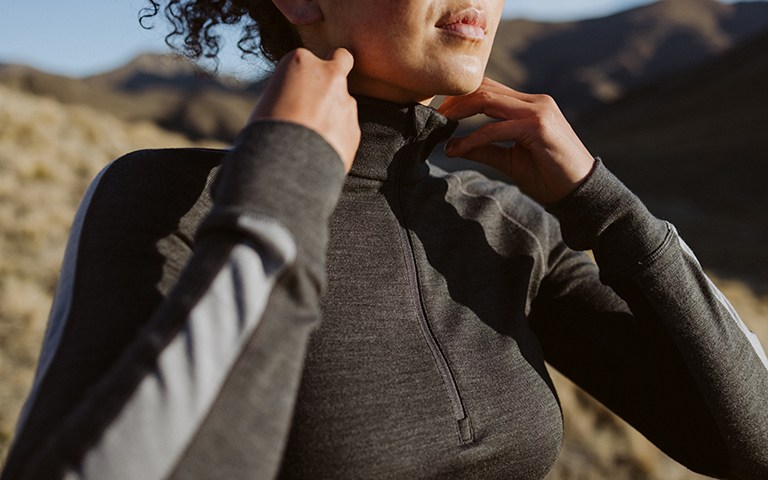 Which fabrics insulate best? | icebreaker
27 October 2022 | icebreaker