Merino socks: The Past, Present, and Future
August 4, 2017 | The Field
Let's face it, socks are the unsung hero of performance apparel. Nothing ruins a day like sore, cramped, or just plain old funky feet. Yet when your socks perform as planned, no one celebrates.
But that's why we're here, to shine a spotlight on the bit of your kit that's quite literally the foundation - and an area that's seen some serious innovation in recent years. To do so, we recently connected with Bryhn Ireson, the Global Merchandise Manager for icebreaker's merino socks and men's apparel lines.
Working out of icebreaker's design HQ in Portland, Oregon, Ireson wears many hats. As a one-man bridge between business, market research, design, and development, Ireson has a unique perspective and incredible knowledge of an article of clothing many barely think about.
To take advantage of his unique experience, and send questions his way for a change, we sat down for a little Q&A.
The world of sock design has really changed over the last decade. What has been the biggest change you've seen?
I think that the biggest thing is the technology and the ability of knitters and knitting machines to do finer yarns and a much higher level of detail—using new materials to really create new technological benefits, like compression that's really engineered to help blood flow happen.
One of the best ways to think about it is how the pixels on your TV keep getting smaller and smaller. It's kind of like that, where everyone's going towards finer and finer knits.
Specifically in the outdoor clothing industry, what's happening right now?
For a long time the outdoor industry in general was really tech forward, really focused on innovation and cramming the highest technology you could into products. And something I see overall is a little bit of a return to a simpler time now - almost a rejection of the uber tech trend.
I think our basic merino wool hiking socks are the answer to that.

There used to be a school of thought that thicker is better, and on colder days, and when hiking, doubling up socks was the way to go. What do you think about that now?
If you talk to someone who has been backpacking for 30 years, they have a way they learned how to do it. And for me, in my family, that always involved a pair of socks that we called Woolies, which was the second sock that you put on over your cotton sock for additional warmth and blister protection, basically.
Wool socks have been around forever, but old school versions were kind of shapeless and weren't very compressive to the foot. With modern sock technology we now have the ability to use other types of yarn with the wool, which really improves the fit and enhances durability far beyond what I grew up hiking with.
And certainly there's a push towards thinner socks that still pack a lot of warmth. All of our socks, from ultralight to the medium will have some element of cushion in them that provides insulation.
What are you most excited about from the sock line right now?
We recently started doing 200 needles in some of our sock construction. If you're unfamiliar with the way sock construction works, it's basically a cylindrical machine with needles all around the outside of the cylinder, and so the ability to get more and more needles into that cylinder with finer and finer yarns means that you have really lightweight, really soft socks.
In upping that needle count we're really striving for that fine gauge, really luxurious feel - a sock you can wear with dress shoes or loafers, so you get the benefits of merino wool in your daily life too.
And the hike+ is our pinnacle, most technologically advanced technical sock. It's the best of what's out there. We have an anatomic fit on those socks (anything that's denoted with a plus does). And that's something that we're particularly proud of. We make a proper left and right for the foot, with the idea being that you want the most minimal fabric of excess extraneous fabric in your shoe as possible.
Merino clothing is king at icebreaker. But what are some other materials your team uses to enhance sock design and functionality?
Several seasons back we shifted to using a little bit more nylon, which was controversial for us at the time because we had been known up until then as really being a "pure merino" type of brand. But what we found was by adding nylon, you get strength.
You get abrasion resistance and durability in those areas where you're most likely to poke a hole through or rub it raw on your boot, and a kind of rigidity around the foot which keeps it from bagging out if you're wearing the same pair of socks for a couple of days while hiking. And because you still have 100% merino next to the skin, you're still getting all the benefits—natural moisture management, anti-odor capabilities, and warmth, even when wet.

What does R&D look like at icebreaker? Do you have a product testing team of athletes or is it all done in a lab?
It's a combination of the two. I've always found that lab testing is really good at establishing a baseline, but that nothing can compare to feeling it for yourself. And sometimes what you catch in a lab is such a minute difference between results versus when the rubber hits the road, you can actually feel the difference much more than that small percentage might suggest.
So we start with some lab testing, but then we also have a small database of internal employees and ambassadors that make up the wear testing program. We record how people are wearing them, how many times they've worn them, how many times they've washed them, things like that, then get their feedback. The most important thing is really around anything we couldn't catch in the lab.
We've never had a complete sock failure during testing, but if we did happen to get someone that had a blowout during the wear testing program, we could look at the lab results and determine the cause.
And we take pride in our level of cushion and the density of cushion that we provide in our socks. So we do a lot of comparison on that as well, just making sure that not only is the initial comfort good, but that over the course of time it lives up to the idea that we kind of have a lifetime sock here.
What does the future of sock design hold for icebreaker?
You know, we saw an amazing opportunity in lifestyle socks to use that 200 needle fine gauge construction, but I believe we'll be going to market soon with more 200 needles in other areas besides lifestyle.
What we've found in testing is that it's actually more durable than we thought it would be, and can actually hold a cushion as well, so we can use that in more tech hikes or run socks as well. So you'd get the benefit of the fine gauge, and the comfort and the small yarn, but you'd also get kind of the full build that you expect from a more athletic sock.
Certainly we're going to keep working on providing the right blend of just awesome, go-to, easy to understand socks, then fun bright colors to really liven people up and get them inspired to be outdoors as well. That's something we really try to do - give people the gear that has the function, but also fits the aesthetic of what they're trying to do.
How do you let people know that wool is great for warm weather as well, and it's not just a winter material?
That is a conversation that's central to icebreaker. I think for a long time, wool was for warmth and that was the purpose it served. People were willing to put up with a certain amount of itchiness or shapelessness if that's what it took to get the warmth. But both from the raw fiber of merino wool and then through the construction methods that we use, we could not be farther from those days now.
One of the best things about icebreaker merino is the thermo regulation. There have been studies done that show that the body temperature of people exercising in merino wool fluctuates much less than someone in synthetics.
But other than that, we certainly keep looking at other technologies too. For example, in our apparel we use Cool-Lite™, which is a TENCEL® fiber mixed with merino to provide a great warm weather wool experience where you're guaranteed not to get overheated. The TENCEL® factor has such a nice cooling aspect, and you're still getting all of the great benefits of merino, too.
Do you find yourself noticing what socks other people are wearing in everyday life? Has the classic white cotton tube sock become the stuff of nightmares?
They're good for a retro party, you know, if you're John McEnroe in a tennis outfit or something like that. But I really don't think that cotton socks have much place in sport anymore, to be perfectly frank. I really feel that the benefits that you get from merino socks just far outweigh what you could get from cotton tube socks.
And I certainly do find myself, when I'm hiking with friends and someone complains about hots spots or blisters, asking, "Are you wearing cotton socks? Chances are they are - the moisture retention and the distortion of the fabric you get with cotton doesn't live up to what the capabilities of wool.
For me, I'm a runner, and it's easy to understand why I would wear merino skiing, but when I switched over to running exclusively in merino wool socks, I just had so much of a better time - the biggest benefit for me wasn't around blisters, but around moisture management with my socks. For some people that would translate into fewer blister problems too, because your skin is not as moist.
So kind of a long answer to the question about white cotton tube socks, but you know, they're kind of like bell bottoms. They're good in the right perspective, but when you want the right tool for the job, you probably need something a little bit more specific.
Explore our range of icebreaker merino socks here.



More for you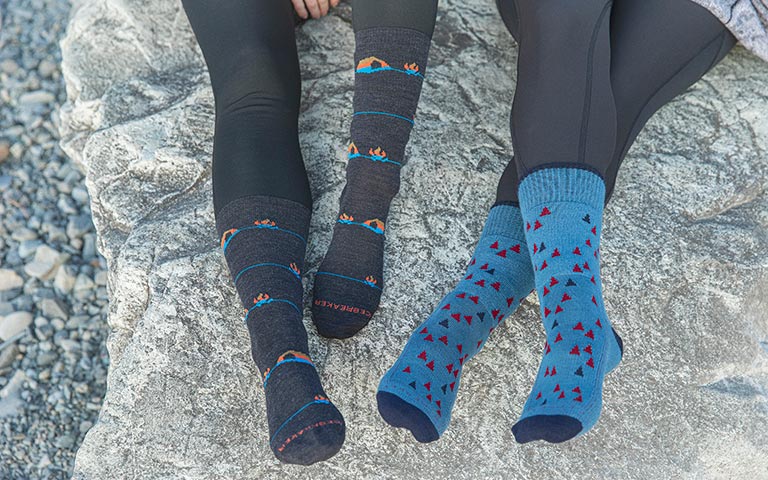 Merino socks for hiking | icebreaker
26 August 2020 | Marie Knowles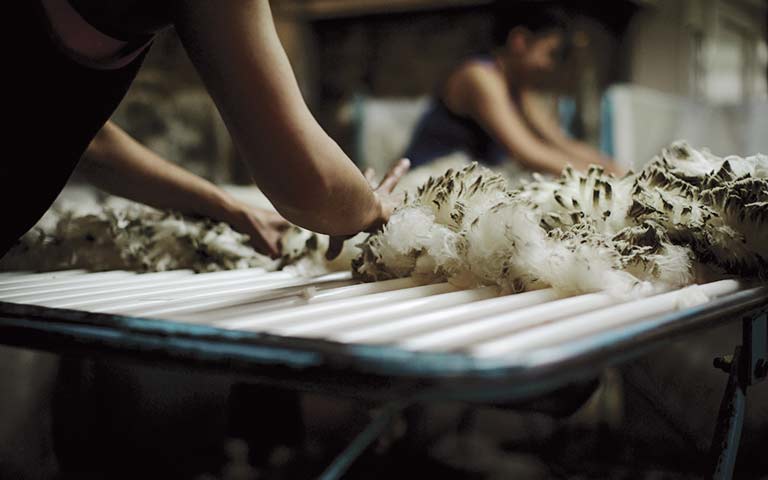 Why is merino wool good to wear? | icebreaker
19 August 2020 | Marie Knowles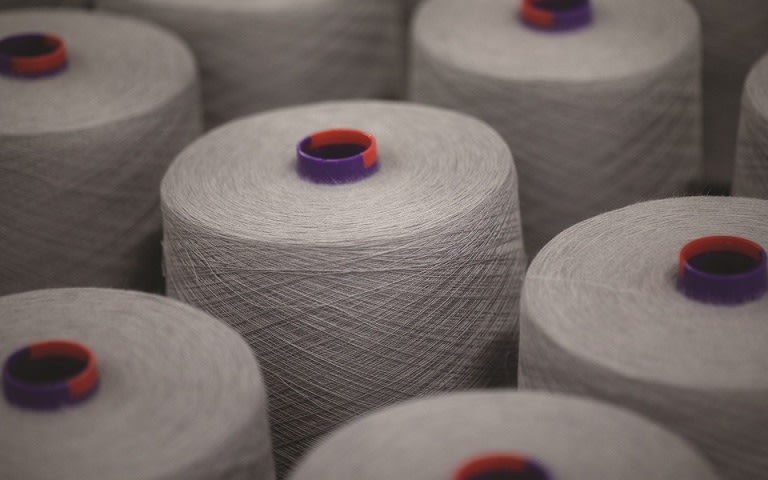 Future fibers merino and tencel | icebreaker
7th May, 2018 | Helene Ravlich