The Rise of the Bouldering Gym
October 25, 2017 | The field
What is a bouldering gym?
Stout compared to top-rope (traditional rock climbing) options, a bouldering wall consists of a 10-15 foot slab with a padded floor for wiping out that's about two mattresses thick. Climbers don't use harnesses and ropes when bouldering - they simply fall. Generally, the routes, called problems, feature bigger, wilder moves between holds.
"The ultimate in bouldering is the dyno - a move that requires a climber's hands to come totally off the wall in pursuit of the next grab. They're a hell of a lot of fun, and if you spill the right way, they're no more dangerous than a leap between hotel beds," explains Oliver Muska, chief route setter at Brooklyn Boulders climbing gym.
Problem building
Crimps, jugs, slopers, pinches. Off the wall, and organized by color, the thousands of climbing holds at New York City's celebrated Brooklyn Boulders climbing gym look like - and are often named like - Willy Wonka candies that didn't make the final cut.
As chief route setter, it's Oliver Muska's job to take these lopsided bits of polyurethane and create a vertical map to guide climbers on their scramble to the top of the wall.
"The biggest challenge is to be fair to different body types," says Muska, who also sets routes for the French national climbing team. "Placing different options on a route, or providing alternative foot holds so that it's not just 5'7" to 5'11" men who can take it on."
Muska fits within that imagined mould of the climber: Popeye forearms, pull-up biceps, cutoff denim dusted in gymnast's chalk. But throughout the facility, just before the evening rush, there's a huge spread of types and talents giving it a shot on the walls - from amateurs Velcro-ing into shoes for the first time to seasoned climbers hanging from little more than their fingernails. The scene plays daily in similarly focused gyms around the world. And like most days, the lion's share of these guests are on the bouldering walls.
How a once-fringe, backcountry pastime grew into an indoor phenomenon and became an Olympic sport.
"Throughout the world, climbing gyms are popping up in urban areas with incredible speed - in the U.S. alone 26 new climbing gyms opened in 2016."
Brooklyn Boulders, a bouldering gym that first opened in a former newspaper garage in 2009, gets thousands of visitors every day across its six locations. They're often found in cities hours away from any decent outdoor crags, making these gyms in New York, Chicago, and DC even more popular.
And bouldering has a huge part to play in the growth spurt. Quicker to build and easier to get started in as a sport, there's less to get in the way between the climber and the wall.
The boom is creating stronger markets in hotspots like Madrid and Auckland, and growing ones in the flatlands of Kansas City. In the rolling fields of Des Moines, Climb Iowa opened in 2008 to serve this small city in middle America.
"When we opened, people thought a population base under half-a-million people couldn't support a [climbing] gym," says Aaron Stevens, the gym's co-owner. "That's the most impressive thing about climbing gyms right now - small cities far from climbing Meccas that can sustain a community."
There are also high-profile gyms, like Sharma Climbing in Barcelona, run by Chris Sharma, the first in the sport to best an impossible 5.15 grade. Or Dumbo Boulders, an outdoor gym down under the Manhattan Bridge overpass in Brooklyn that opened in the summer of 2016.
"Dumbo has become an icon of the urban climbing movement," says Mike Wolfert, the owner of The Cliffs, the NYC-based indoor gym that runs the bouldering-only outdoor spot. "It's so photogenic, with the towers of the financial district in the background, and the Manhattan Bridge over your head. It's loud - there's no way you can avoid the trains running on the bridge. But it feeds into the experience."
As climbing pops up under bridges, in farming towns, and all over Instagram, the larger sports world has taken notice. In 2020, in Tokyo, rock climbing will make its long-awaited Olympic debut.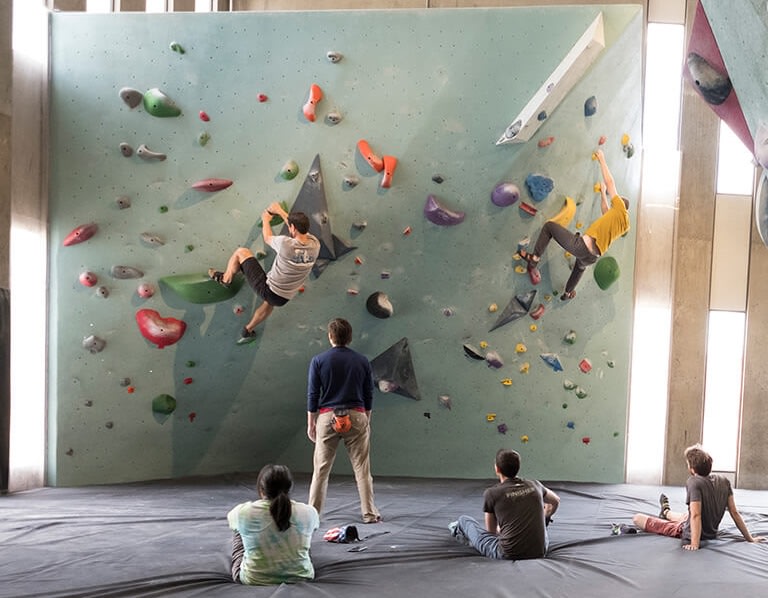 Photo Credit: Seattle Bouldering Project.
A short history of bouldering
Like many good ideas, the design for the first bouldering wall came from winter boredom, and a desire to make sure college kids don't get hurt.
Don Robinson, an English climber and gym teacher at Leeds University, saw his students ripping tendons and finger pulleys in the spring on the same routes they had sent in the fall. So in 1964, he glued rocks to the brick walls of the gym corridor to replicate the sport's prime movements - gnarly crimp pulls and feats of balance. Soon, his students and friends were making games and training exercises on the hallway climbing wall, and getting stronger through the winter.
"In their 30-year history, indoor climbing gyms have revolutionized the sport, turning a backcountry pastime into a powerhouse industry, and rapidly improving the quality of climbers."
The fear of losing a season's gains between seasons also propelled the first commercial indoor gym into being. In 1987, in a tent near the summit of Anconcagua in the Argentine Andes, Rich Johnston was holed up with a friend. Johnston, more of an alpinist than a vertical guy, wondered how his climbing friend stayed fit in the winter. "There's no gym?" he asked Hawthorne. "What are you talking about? We mostly just hang out in the basement and do pull-ups," Hawthorne replied.
The conversation at 22,000 feet inspired Johnston to create Vertical Club in 1987, a rocks-glued-to-the-wall joint in Seattle (now home to five dedicated gyms, including the immaculate and sizeable Seattle Bouldering Project). "Everybody thought it was a horrible idea," said Johnston. "Alpinists, climbers, REI - all the organizations thought it was stupid. The idea of bringing it indoors, I was a heretic at the time."
As these things go, the heretic became a prophet. Though it took a minute. "There were about two years where I didn't get paid," said Johnston. "Then I started to be able to go to the grocery store again."
By the early '90s, Vertical Club re-branded as Vertical World and indoor gyms enjoyed their first boom, popping up in climbing havens like Salt Lake City, Denver, and throughout California.
Before the indoor scene blew up, it took years for boulderers to develop the balance and small-muscle technique to reach world-class status; now, starting young, climbers are winning elite competitions while still in high school.
One of the best in international competition - male or female - is 20-year-old NYC native Ashima Shiraishi, the first woman to climb a V15 boulder. Her style is exact, mindful, using just enough energy to cling to the next microscopic hold.
"For young climbers like Ashima, the foundation of climbing is built into your system, your skeleton," Muska says. "The small muscles of the fingers have so much time to get stronger, and so much time to get really good at climbing."
Shiraishi is versed in an outdoor tradition, full of "crimpy, technical climbing and working through bad holds." The competitive style, however, is honed indoors, full of dynos and highly coordinated moves. "Indoor competition is made with spectators in mind," says Muska. "It's entertainment, it's very explosive."
Bouldering's first year in the Olympics (and controversy)
At the 2021 Olympics, the gold went to the climber with the best rounded score from three events: bouldering, lead, and speed climbing, where competitors bumrush the wall for the fastest time.
Slovenia's Janja Garnbret took home the first ever women's gold, and Spain's Alberto Gines Lopez took it out for the men's (USA's Nathaniel Coleman took the silver).
But many climbers aren't on board with the format. Sasha DiGuilian, one of the sport's best big wall climbers, describes it as "bundling mogul skiing with downhill racing - very different events, very different athletes. The way the sport is packaged for the Olympics is a fabricated, artificial version of competitive climbing."
Here lies the conflict in the community. Does indoor dilute the experience of climbing - its inconveniences and naturalist joys - or does it provide the exposure the sport needs to thrive?
Rich Johnston accuses climbing gyms of "being really guilty of popping out dumbass climbers," people who don't respect the culture and the danger of outdoor climbing. He anticipates the divisions within climbing to widen, so that "there's climbers who try to get outside every weekend and then people who live in the gym, but don't go outdoors."
"This is something I wrestle with frequently," says Mike Wolfert at The Cliffs. "Our members know how to climb on plastic, but outdoors is a whole different world. We have a huge role to play in teaching people going outside how to respect the climbing area." Wolfert suggests that indoor climbing's greatest impact will be off the wall entirely, helping to preserve and expand public lands.
"With this indoor generation of climbers, they care about the environment and the potential for this sport, and they're voting to defend it. As they get outside, they join groups like the Access Fund and vote with their wallets to help grow the sport."
As it were, the sport seems in good hands.



More for you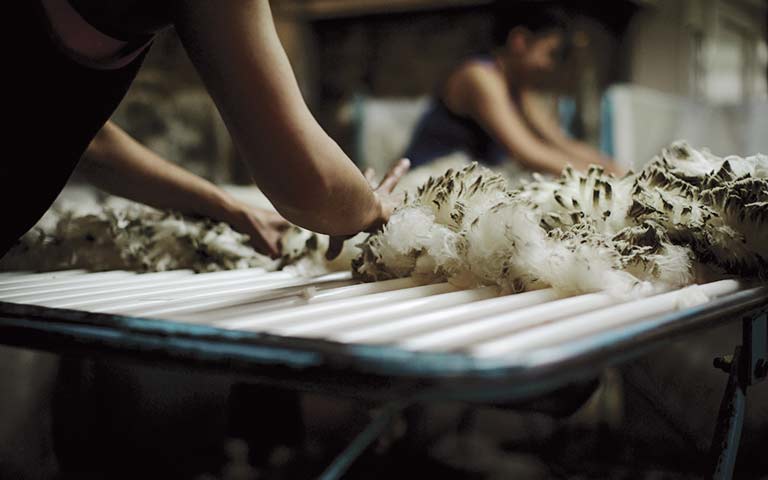 Why is merino wool good to wear? | icebreaker
19 August 2020 | Marie Knowles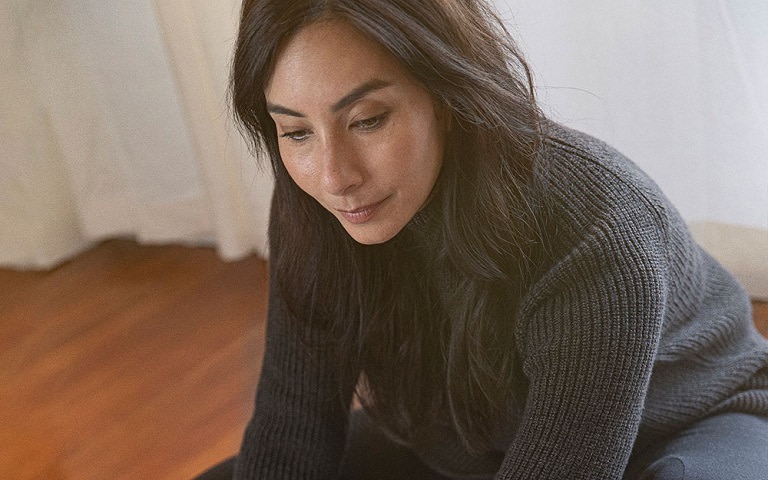 Meet scientist and engineer Nanogirl | icebreaker
1st March, 2018 | Helene Ravlich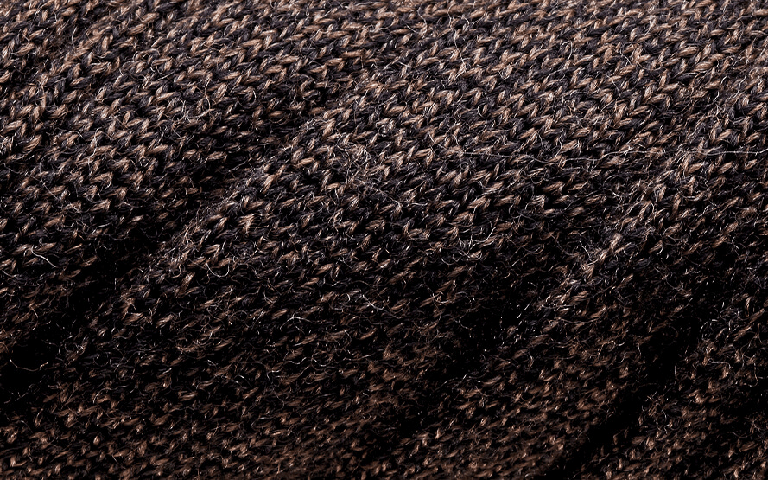 Washing Merino Wool Clothes | Does Merino Shrink? | icebreaker
28 September 2020 | Marie Knowles